50th Anniversary Summer Social
Date and time
Saturday, July 27th, 2019
5:30 pm – 10:30 pm
Location
Roncalli High School
3300 Prague Road
Indianapolis, IN 46227
View map
Register now
From $5 – $25
Organizer
Tina Hayes, Director of Advancement
About
Join us for an event to remember – our 50th Anniversary Summer Social.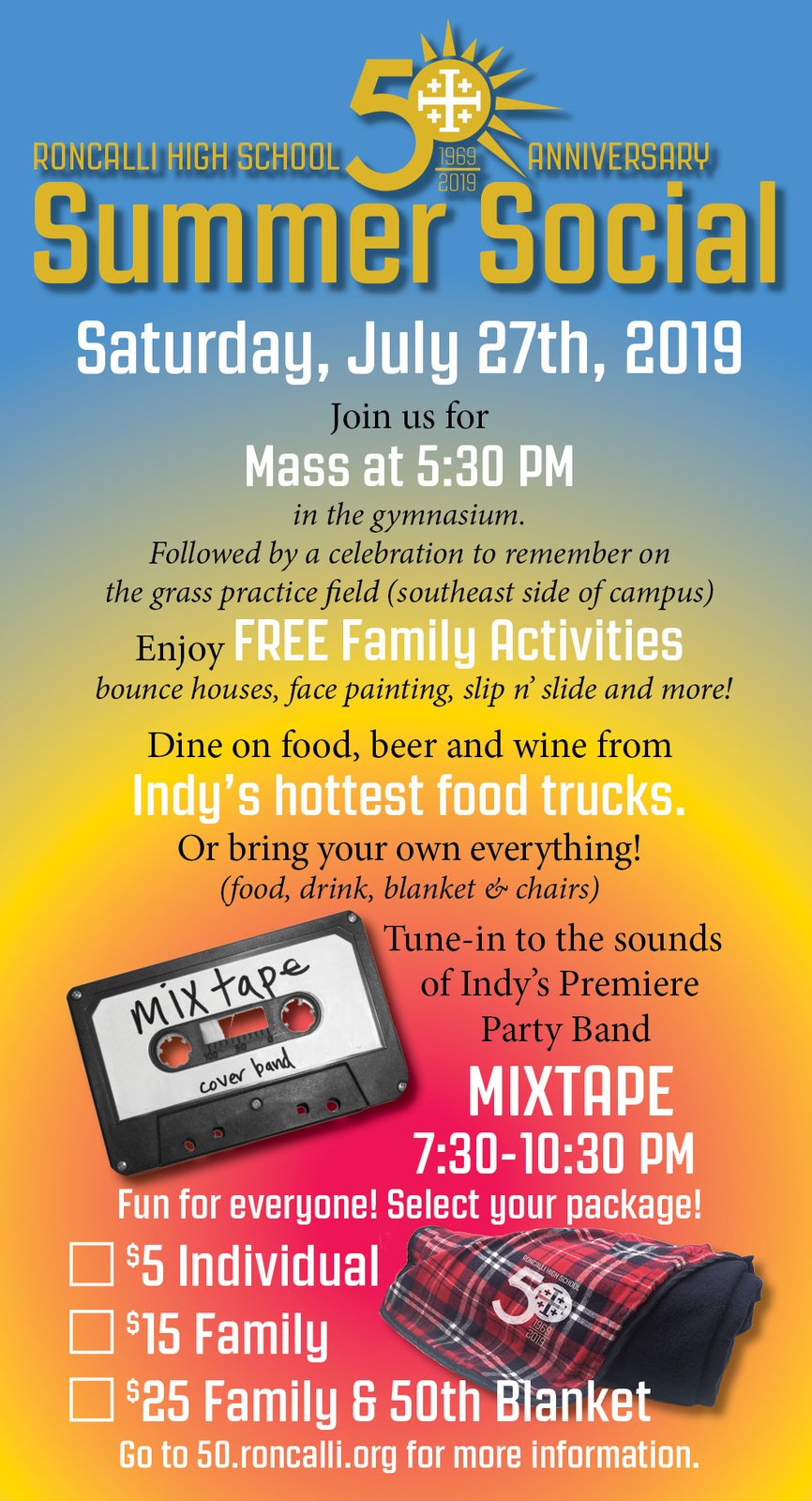 Join us for Mass at 5:30 PM in the gymnasium.
Followed by a celebration to remember on the grass practice field (southeast side of campus).
Enjoy FREE Family Activities bounce houses, face painting, slip n' slide and more!
Dine on food, beer and wine from Indy's hottest food trucks. Or bring your own everything! (food, drink, blanket & chairs)
Tune-in to the sounds of Indy's Premiere Party Band, MIXTAPE, 7:30-10:30 PM.
Come together with your Roncalli family to celebrate 50 years of Roncalli.
Recent activity
Morgan Beaupre
Student '23
Registered 5 days ago
Jennifer Devine
Parent '23
Registered 5 days ago
Cissell Family
Student '22
Registered 6 days ago
Emily Lehner
Alumni '92
Parent '22
Registered 9 days ago
Rachael Coffman
Alumni '93
Registered 13 days ago
Barb Buckel Mathauer
Alumni '68
Registered 14 days ago
Keri Kelley
Parent '15, '21
Registered 14 days ago
Registered 14 days ago
It's going to be an exciting celebration! Looking forward to it!
Ticket options
© 2019 BoostMySchool. All Rights Reserved.