Support a Student on the Washington, D.C. Trip!
$997.47
raised of $4,000 goal
Organizer
Leaderboard
Top alumni classes
Class year
# Donors
Total

1976

1989

1998

2000

2004

2005

2006

2008

2009

2010

$854.47
About
Do you remember the Washington, D.C. trip your junior year at MKA? What was your favorite memory from the trip? #MKADC
This annual trip for juniors to Washington, D.C. is a longstanding tradition at MKA. Each spring the History Department takes the entire junior class for a three day visit to our nation's capital. This trip gives our students an opportunity to visit Congress while in session, visit the National Museum of African American History and Culture, as well as take part in small group meetings with briefing groups made possible by our incredible network of alumni and parents.
Your support of annual giving makes this trip possible and provides students with amazing opportunities for learning and growth. Help us enhance the success of all of our students. Invest in MKA today and make a difference!
The DC trip last year was amazing and I loved every second of it. I got to see Washington, D.C. in a way I never had before and get a better feel for what it's like to work and live there. My group got to go to ICE and meet with MKA Alumnus Peter Edge. It was one of the most interesting and unique opportunities I've had and I'm extremely grateful."

– Sophia '18
Going to the Museum of African American History yesterday and seeing all the monuments was really cool and interesting because it's what we've been learning about all year in class.

– Lily '19
My favorite memory at MKA was seeing Van Gogh at the National Gallery on the DC Trip last year!!

– Allison '18
Looking back now, the Junior trip to Washington was way more than a "reward" for having navigated the treacherous waters that was our Junior Thesis. Being exposed to the various Branches, but more so intricacies, of our Government via the amazing relationships MKA has forged in the DC area was something many don't get to experience. I hope those undergrads take full advantage of the time they have down there!

– Stu Harwood '07
To be able to experience the nation's capital with the same best friends I have today is a once in a lifetime opportunity. Filled with history and culture, the DC trip is one of those moments in my life that I'll appreciate for years to come.

– Cait DiRuggiero '06
The DC trip is great because it brings you closer as a class. It's filled with friendship and compassion.

– Kyle Duca '11
Update #4 - 10 months ago
Three days in D.C. have provided the class of 2019 with memories that will last a lifetime! Your investment in MKA, of any amount, makes experiences like this possible for our students.
Last day to support the class of 2019 and their D.C. trip!
Juniors visiting the U.S. Capitol Building
Posted on Sunday, April 15th, 2018, 9:59 am EDT
Update #3 - 10 months ago
"So thankful to MKA for allowing me the opportunity to discuss my political views and questions with a senator that I look up to and admire so much." - Reilly '19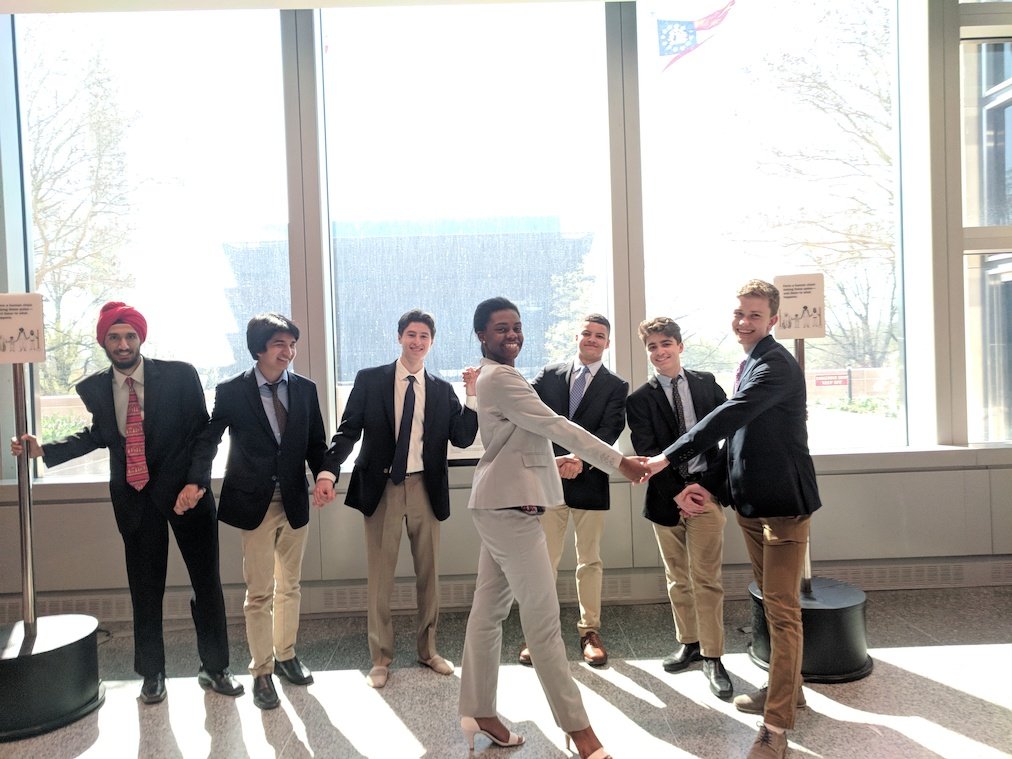 Juniors visiting the American Civil Liberties Union
Wreath laying ceremony at the Tomb of the Unknown Soldier
Posted on Saturday, April 14th, 2018, 9:49 am EDT
Update #2 - 10 months ago
Our juniors have only been in D.C. for a little over 24 hours, and they have already visited the Smithsonian National Museum of African American History & Culture, the Franklin Delano Roosevelt Memorial, the Martin Luther King, Jr. Memorial, the Lincoln Memorial, and spent the day at the U.S. Capitol. Small gifts to MKA make a huge impact on our students. Last year individual gifts of $100 or less amounted to over $40,000!
Interactive Step Dance exhibit at the Museum of African American History
Posted on Thursday, April 12th, 2018, 6:38 pm EDT
Update #1 - 10 months ago
Juniors enjoying lunch in Union Station
The junior class can't wait to arrive to D.C.!
Posted on Wednesday, April 11th, 2018, 4:24 pm EDT
Campaign ended Monday, April 16th, 2018, 12:00 am EDT
Recent activity
Matthew Palmisano
Alumni '10
Supported 10 months ago
Supported 10 months ago
In honor of Brandon'04, Breanna '08 and Brittany '16...They all still talk about this fantastic trip.
Geoff Branigan
Faculty/Staff
Supported 10 months ago
In honor of George Hrab

I can't wait to be back on the trip next year. I hope everyone is having an amazing time. Thank you to alumni Rhoan Jones '90 and Brian Donahue '94 for hosting student groups today!
Galasso and Day Families
Alumni '05
Supported 10 months ago
Lainey Segear
Faculty/Staff
Supported 10 months ago
Jaclyn Spedaliere
Alumni '00
Supported 10 months ago
© 2019 BoostMySchool. All Rights Reserved.